17.02.2009 - 22.02.2009

View Round the World Baby! on Dodgey's travel map.
By the time you get this update, hopefully (edit -- yay! done!), our "Flight of the Gibbon" video will be below. The Internet is still far too slow, and power cuts too common to attempt the upload at the moment but we should be back in Thailand in a week where it is much faster.
(Note - I shoot the videos at 640x480 so if you get a small window you should be able to enlarge it, or download it and view in Quicktime - which I think it does by default anyhow)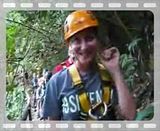 (Click on the image above for the video)
We've spent a few more days in Luang Prebang, having a good mooch about.

(Yep, they have a lot of Wats in Laos too!)

(With some older bits too)

(Where the monks live, by the Wat/Royal Palace)
On one of the days we decided to hire a boat and check out the other side of the Mekong. We hired a thin long boat for £3 with the driver to wait for us.

(Our boat)
The other side of the river was a shock. Totally untouristic. Mud lanes with farm houses and animals everywhere.
We wandered through the "village" and took a long flight of steps up to a very old temple.
Four young girls followed up the steps, selling flowers to leave at the Buddha as an offering for "lucky lucky", as the girls told us. They were too cute and we gave in and bought some.

(The temple may be old but they keep their Buddha shiney!)

(Luang Prebang on the other side of the Mekong)
The following morning we woke up to even hazier skies, then, after taking a deep breath, we realised what it was – smoke.

(You can see the smoke in the air, and behind the house and trees should be a near-by hill that we could see the day before!)
We'd read about this in the books. The farmers practice "slash and burn" – i.e. they harvest their rice then burn the stubble. They do it on such a large scale that the whole country lies in a veil of smoke during post-harvest. This was just starting. Even the locals' eyes go red after a while of this apparently. That was to be the end of any views!
We took a stroll through the night market that evening… lots of silks etc..
The next day we hired two bicycles (scooters were $20 for 8 hours!) and had an explore on wheels.
We soon came upon yet another rickety bridge…

(We so had to cross this! You know I love these – all "Indiana Jones")
… where we found a bar on a sand bank and had a rewarding beer.
Later that evening we, by chance, bumped into two friends we met in Thailand, Michel and Debbie – he actually walked up to me without my attention and bumped into me – I got such a fright lol
..so we drank some wine (a real treat for us) and sank some beers, then chowed down on some local "meat sticks" by the market.
The next morning was to be our departure to Vang Vieng. I'd booked us two tickets on "Express Bus, Air conditioning, no stops – 6 hours". The only element of truth to that description was "bus". Before getting on the monstrosity that was to be our transport for the day I spotted all the monks walking past our room at 7am to take their food offerings – collecting "alms" I believe.
Nice.
Our single deck coach (with sheet glass windows – which horrified me as there is a very good reason vehicles normally have laminated glass) wound it's way up through the mountains, at unbelievable altitudes. The driver only switched the air conditioning on when we were stationary – clearly as the vehicle didn't have the power to run the AC going up hills, plus it is a waste of fuel for them. Then he roared along the tortuously windy sections downhill.
I chose to not look half the time. None of the corners are guarded, and one mistake would mean certain death – especially as we were sitting in a giant glass bottle – if the impact didn't get you you'd be sliced to pieces.
Mind you, we passed some stunning scenery, and some very "back in time" towns
We stopped at one point, for refreshments, and for the driver to do some maintenance….

(water cooled brakes! – thank goodness they thought to do this though. Gives you an idea of the drive we went on – to overheat the brakes)
We arrived at Vang Vieng in pretty good time actually. The whole thing took 6 and a half hours. Pretty surprising really, considering we stopped to pick up and drop off half of Laos, and we spent a considerable amount of time in reverse)
We initially checked into a property I'd pre-booked – it was $40 a night and was supposed to have a bath tub, TV, fridge, air con. All it had from that list was air con, and air con that was preset to a feeble mode. Plus the room was not sealed.
We thought we'd lump it for one night then move, but when I found the shower heater was not working I'd had enough. $40 is a LOT in Vang Vieng. K went and had firm words with the staff, and when they started to mess around, pretending some little girl was the manager, she asked to get the hotel owner in Vientiane on the phone. They immediately gave us a full refund !
We checked into what must be the best hotel here, and we bagged an executive suite for $10 more that the other place, with giant bath, TV, fridge, pool, gym . The lot!
The hotel sits on the river here – can't remember which river.

(A view from the hotel – smokey/misty though)
… and sat and enjoyed our millionth sunset…

(Our hotel)

(a better view on a clearer day)
Of course, we immediately discovered a rickety bridge. Yay!!
…. And went to check it out.

(On our side, the "final bar" on the "tubing run" – more on that later)

(cute huts on the other side of the bridge)
Vang Vieng is a strange place. A bit of a one-off. You see, the main attraction here, apart from the scenery and caves etc, is drinking, doing drugs, and tubing down the river.
The streets are lined with bars, where they ALL have TV sets playing reruns of "Friends" – and the bars are full of stoned teenagers watching said "entertainment". There IS some variety however, some bars play the Simpsons. It is a total tune in and drop out culture.
You can readily buy shakes or pizzas with magic mushrooms, hashish, opium, or even methamphetamines (very bad indeed). Needless to say we are past all that kind of thing. Well, mostly!
Now, I mentioned the famous "tubing". It is one of the reasons we are here right now. We'd heard a lot about it so on day two here, we got straight into it!
You wander for 5 mins into town, in your swimmers, and pay about £5 for a large tractor inner tube, and then get shuttled 5Km up the road with lots of other people, naturally, in their swimmers too!
You then get dropped of at a LOUD bar full of young ones knocking back beers and watching the spectacle that is the vast arrangement of rope swings, zip lines, and diving boards. People have died here. Five in the last few years I believe.

(The 1st bar - empty at 11.30 am but heaving in 30 mins...)

(See!)
It really is totally surreal when you arrive. It is basically a huge party on a river. You get warmed up with a few cold beers (or whatever narcotics you may be into) and then jump in your tube and float away! :- )

(Gives you an idea of the height of the swings)
You almost immediately float past more loud bars who throw out ropes with a water bottle on the end to "fish you in". This is the first time I've actually seen bars fishing for customers!
We stopped at our second bar, watching people flying on death defying rope swings and dropping over 30 feet into the water, and sank some more beers. Two people floated off in their tubes, and one of the bar staff said to us, "wow – they did two "opiums" each!" – I have to say, they did look chilled out. Very chilled out. Lol

(Who needs a bar when you have a rock?)
We then stopped at our third bar. This one was special. They had a HUGE rope swing, PLUS, they had a giant water slide that chucked you into the river.

(The swing launch is where you see the parasol at the top of the tower)
We drank some more, and then, after ascertaining that this part of the river was easily deep enough to be safe, I went for the rope swing.
I have to tell you, once I'd climbed the wooden tower to get to the top I wish I hadn't started the venture! It was miles up! And you had to reach out for the swing handle (like a trapeze handle), leaning off the edge.
Well, I'd got that far, so I went for it. WOW! – I screamed on the down swing, then again as I carried on up, gaining height. I let go somewhere near the top and shot into the water like a bullet. Must have been 30 plus feet. My trunks disappeared inside me.
What a rush! So much fun. Kirstin immediately followed. Her top came off. (Update - K tried it again 2 days later, and landed at a bad angle - she is very sore - chest and throat :-( )
After that, we did our final bar, then settled into the much calmer water for the ride back to base.

(Not a bad way to spend the afternoon)
It became apparent after a short while that there was a good reason that most people get out after the line of bars and get the truck back. The river was really slow. We were moving at less than walking pace. Saying that, it was stunning. Relaxing in the calm water watching the sun go down. Truly lovely.

(Free whisky - we swigged, then noticed the bottle - bugs of some sort!)

(Michel and I on the second trip - I laughed when I noticed how phallic this photo is -2 men, REAL MEN!)
I think it took about 2 hours to get back!
A real spectacle is watching the teens stumbling through town in their swimmers after 7pm - they are so stoned / drunk it is a miracle they get home. I watched one young girl wandering, in ther dark, in her bikini, clearly out of her mind, through town, at 9pm. Daft as hell.
We are going tubing again tomorrow, and I'm taking the camera this time to make a movie…. Watch this space…ahh! here you go!
.. This one is a biggie - be patient!
(Click on the image above for the video)
Posted by Dodgey 05:34 Archived in Laos Comments (0)