09.08.2008 - 13.08.2008
30 °C
View Round the World Baby! on Dodgey's travel map.
What a change! By the time we left Dongo at Lake Como we'd had enough. It was a lovely place but the campsite was a bit of a nightmare. Our neighbours could not have been any louder or inconsiderate if they tried, we had the bins behind our tent – so people would bang them shut at all hours, we had little shade, our pitch was cramped, and the church bells – well , they got more and more frequent. It seems we were there at the start of some kind of religious "thing" – "our" church would ring half of a "tune" while another church miles away would ring the other half. Sounds great? Well, no, not if you can't hear the other church, being that we were at one far end of the musical "arrangement".
For once we actually got up early and packed before the sun came out in its full ferocity. This obviously gave the advantage of not packing in ninety degrees heat, but also meant we'd arrive at our next destination before midday. We've realised we have been making the mistake of travelling though the worst heat of the day, then arriving at our new location hot and knackered and consequently picking the first campsite we find. Often not the best choice! So we got up at 7am and were away by 8.15.
Staying with the theme of being efficient in our move we finally crumbled to the pressure of using the Autostrada – the toll-highway. Our GPS told us it was 4.5 hours to Lake Garda, and we had to go all the way back down to Milan! – Madness. The Autostrada route gave a journey time of under 3 hours. It wasn't all plain sailing. Whoever mapped Italy was drunk. The GPS tried to get us to exit the Autostrada at a junction that simply did not exist! No problem though, we just got off at the next exit and went back to "pikey" roads. Still got there in 3 hours as we'd covered most of the ground. Boy was the Autostrada busy though! We were getting concerned that all of Italy was on the move and finding a new campsite was going to be a bit of a nightmare. Saying that, when we paid only 5 Euros for two and a half hours on the motorway we realised that was part of the reason it was so busy. It's cheap.
The GPS actually came to the rescue in the end. We got stuck in standstill traffic near the lake, and you could see it went on for miles. I used the "avoid road block" feature on the GPS and it actually worked, and diverted us to the lake in twenty minutes with little traffic.
I'd tried to do a little research on Lake Garda before we set off, on the Internet. Its very tricky researching campsites. When you search you are bombarded with the sites' own web pages, all vying for your business. Finding reviews with pictures is near impossible. I did however manage to find a blog entry from another traveller, with pictures of a site and vague directions. We headed for that.
Finding the site was actually a cinch. We got taken up a load of steps and were shown our pitch choices…. What a find!!!! The campsite is split onto lots of terrace levels up the side of a very steep mountain side. All the caravans and mobile homes are at the bottom two levels, and then there are another three or four levels above that are inaccessible by vehicle and therefore tent-only. The real beauty is that you end up with no one in front or behind you, plus, you end up away from the caravans and campervans – a good thing as I'll explain later.

(Our new pitch on one of the top terraces)
The great thing about being up high…. Is…..
THE VIEW!!!!
What a place! We are staying here for a week! (We are actually in the region of Torre Del Benaco but it's a region so I can't select it on the map, so Garda will do for reference - only 6k's away)

(Better than any mermaid)

(Better than Medusa)

(Obviously, most of Italy are on holiday here too!)
At last we get peace and quiet, a super view, good cheap food, and when you walk down to the bottom of the steps you are at the lake – clear and blue. Awesome.
I mentioned before about caravans and campervans. We have definitely come to the realisation it's best to be as far from them as possible. Particularly the caravans. The thing is, they pretty much move their home with them. These families bring EVERYTHING. And I mean everything. Full size fridge freezers, TVs, satellite dishes, proper garden furniture. I've seen some with wooden dressers and cabinets in their awnings. They get their huge (and clearly booked well ahead) pitches, move in, unpack, and make it like home. Not a bad thing you'd think? Well, the problem with them making it like home, is they act like they are at home. That's not a good thing if you want peace and quiet. Not to mention half of them bring their dogs with them.
To be fair, the Italians have been, on the whole, well behaved, but the Dutch! We now select our tent pitch site not only on location, but on proximity to large family caravans. I'll take some pictures of the huge caravans when I get a bored moment – you'll be amazed at how much stuff people are prepared to tow from Holland : - ) – I even read somewhere they bring all their own food with them too.
That reminds me. It's very Italian here. Which shouldn't be a surprise, but at Como it was very Dutch. Most people seem to be Italian that we've heard or spoken too. Feel much better. We are in Italy after all.
So far we've lounged around, swum in the lake, had dinner in Torro Del Banacco, cooked on our home made BBQ, and generally not done much. Tonight there is a firework display at a village directly opposite us across the lake – about a mile away. Should be good to watch from our pitch. There is another big display on the 15 th in Garda itself which we'll go to watch, then we'll leave the next morning to join Matt and Clair at his place North of Venice.
We plan to hit South Italy in September, leaving the tent behind and staying in cheap B&Bs and hostels. We've had our fill of camping for a while – our inflatable bed has a puncture now.
Update: Been relaxing some more. A group of about 8 Italian students turned up the other day and pitched an array of tents next to us. Three of them play guitar and they are very good. We joined them on the first evening they arrived and they played music and sang all night. One of the lads is Sicilian and played lots of Sicilian folk songs. A great laugh – until Kirstin told them I play guitar. Far too many beers and years had passed for me to remember any tunes. I did however spend the next day re-learning some old classics. Was fun to pick up a guitar again, though my fingers hurt like hell now!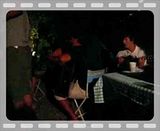 (Critically embarassing. K told them I could play and they insisted. I'd drunk the best part of a bottle of ValPol plus a heap of beers)